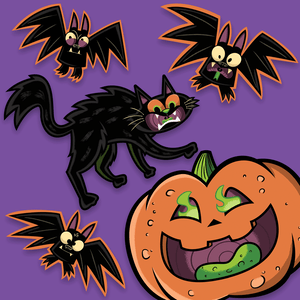 $

20.00
Haunt your home with these decorative Halloween prints!
Each design is printed on French 100 pound cover Kraft-Tone paper and hand cut to perfection!
Only 20 packs available which include Three 9"x5" Bats, One 8"x10.5" Pumpkin and One 11"x6" Black Cat.
Each order is bagged with a header card that is numbered and signed. Shipped flat for protection.
IMPORTANT
This is a Pre-Order item, shipping for this item begins, Monday October 3rd.